Non-Proliferation & Security Studies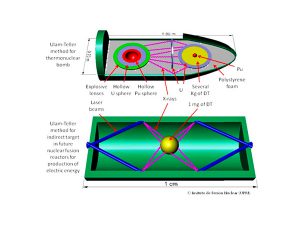 ​
The international situation emerged in the post-Cold War period meant a substantial alteration in the balance of global security with the emergence of new state and non-state actors. In this context of global security, the proliferation of Weapons of Mass Destruction (WMD), namely, Chemical, Biological, Radiological and Nuclear (CBRN) represents a severe asymmetric threat.
Although the first line of action of the states to counteract the proliferation of WMD is to maintain a non-proliferation regime through international treaties; multilateral agreements; official inspections on site; border controls, etc. The extreme violence posed by the fact that a terrorist group could use radiological or nuclear materials is a present challenge and one of the most disturbing threats to our society today.
In the words of the Director General of the International Atomic Energy Agency (IAEA), Dr. Yukiya Amano: "The fact that there has never been a major terrorist attack involving nuclear or radioactive material should not blind us to the severity of the threat."
» READ MORE
Research items/topics:
Non-Nuclear Proliferation
Nuclear and Radiological Terrorism
Illegal traffic of radioactive materials
Energy Security
Regional conflicts. Security threats and challenges. SALW proliferation, armed violence and human security
History of Nuclear Fusion and Nuclear Fission
International Conference on Science and Security: Addressing the Challenges of WMD Proliferation and Terrorism (ISPAT 2010)
The Nuclear Fusion Institute, together with Lawrence Livermore National Laboratory (LLNL, USA) organized this historical international conference held at the E.T.S. de Ingenieros Industriales on November 8 -9, 2010.
The speakers of this event were high-level authorities from various organizations and institutions such as the United Nations Organization, NATO, the European Union, the US Departments of Energy, State and Defense.  And research centers of the Russian Federation, the United States and Spain.
During the ISPAT 2010 celebration, two International Awards on Global Commitment to Science and Security were awarded to US Senators Richard Lugar, Samuel Nunn  that in 1992 launched the Cooperative Threat Reduction Program to and help in the dismantling and destruction of a number of nuclear weapons and their delivery systems in the former Soviet Union as well as to provide security measures in nuclear facilities.
Speakers: 
EU, IAEA, NATO, UNITED NATIONS
Russia's ISTC and VNIITF
Spain's Instituto de Fusión Nuclear
US Lawrence Livermore National Laboratory
US Departments of Defence, State and Energy; US Potomac Institute for Policy Studies, Hudson Institute, etc
Topics:
NATO and EU: Synergism in Science and Security.
Scientific and technical challenges of WMD proliferation.
Role of scientific community in global security engagement.
International Cooperation in Response to WMD Proliferation and Terrorism.
» READ LESS